Meet Our team
Committed & Passionate
Welcome- we're Salinas Physical therapy / Sports Medicine, a private practice serving the city of Yorba Linda, Anaheim Hills, Placentia and surrounding communities. We specialize in the evaluation and treatment of sports injuries, comprehensive spine care, and post-surgical rehabilitation. We are passionate about restoring function in individuals who have been injured, helping people live without pain, and improving the quality of people's lives.
Here are a few other things you should know about us:
We love to educate you about your condition, so you understand the rationale behind your plan.
We love to provide you with all the tools necessary to continue to work on achieving your goals independently.
We love the challenge of solving difficult problems and turning your worry into courage.
We love to cater to our clients. You will be announced when you arrive, be seen promptly and evaluated in a private room, provided with bottled water and a clean towel, with your favorite music playing. All that on the first day! We spend a full hour on your first visit to thoroughly evaluate your condition and develop your individualized plan.
We love building relationships and work hard to make the experience valuable to you. 
We love to help people!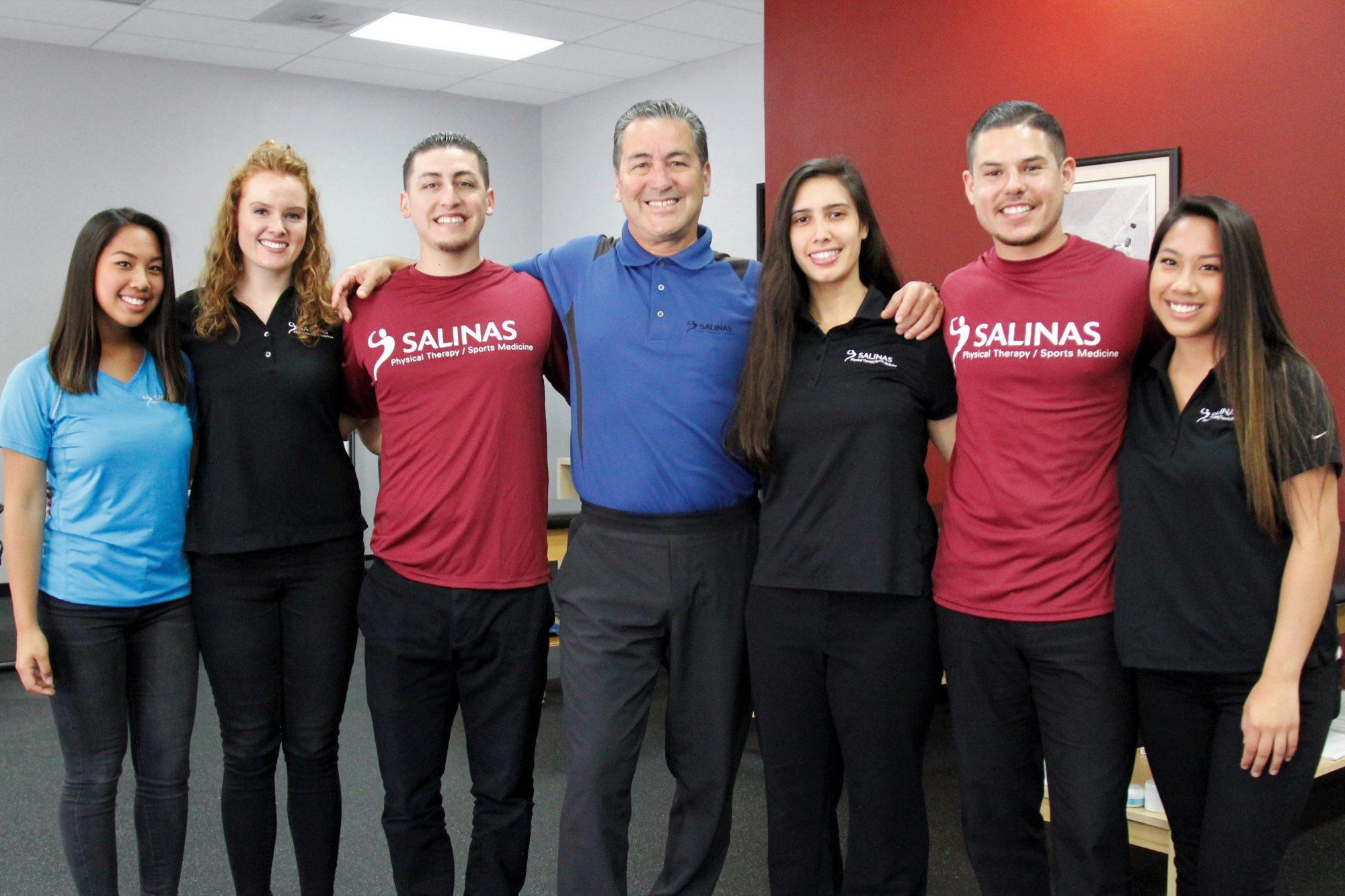 Our Story
When Ruben first opened his clinic in 2004, the idea was simple:  provide a more focused, customized and unique approach to the care of individuals.  Being injured as an athlete himself, he realized that traditional therapy alone would not be enough to return to playing competitive tennis at a high level. He developed a systematic approach combining the science of strength and conditioning and the latest evidence in rehabilitation. This system enabled him and over the years has helped countless clients to achieve their goals.
Today the clinic resides in a beautiful 4,200 square foot state of the art facility. The facility features private treatment rooms, a spacious fully equipped gym and an artificial turf area to build functional strength and enhance performance. Our highly trained staff continues to find solutions for difficult injuries and successfully rehabilitate individuals using our refined systems.
As we've grown our mission is the same, provide individualized world- class service, and improve the quality of people's lives using the latest scientific evidence with our unique approaches.  No matter your age, abilities or goals, we are committed to helping you obtain the healthy lifestyle you've always wanted.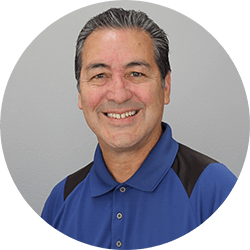 Ruben Salinas, PT, DPT, MS, OCS, CSCS
Doctor of Physical Therapy, USC 2001
Master of Science, Biokinesiology, USC 2001
Bachelor of Science, Physical Therapy, CSULB 1987
Board Certified Orthopedic Specialist(OCS); NSCA Certified Strength & Conditioning Specialist (CSCS).
Ruben is the founder and director of Salinas Physical Therapy / Sports Medicine. He specializes in the treatment of the spine, knee rehabilitation following ACL reconstruction and managing shoulder injuries of overhead athletes. His diverse background ranges from successfully rehabilitating Olympic, professional and high school athletes to restoring the function of seniors and children.
Ruben was born in Los Angeles who after serving in the Medical Corp of the U. S. Army earned his Bachelor of Science in Physical Therapy from California State University Long Beach in 1987. He continued his education earning both his Masters in Biokinesiology and Doctor of Physical Therapy Degrees from the University of Southern California in 2001. He has presented or co-authored several studies and or courses related to lower extremity biomechanics and rehabilitation.
Ruben's professional background includes certifications from the American Physical Therapy Association as an Orthopedic Clinical Specialist (OCS) and the National Strength & Conditioning Association as a Certified Strength and Conditioning Specialist (CSCS).
Ruben has a passion for sports and is a competitive tennis player. He also enjoys listening to music, traveling, and spending quality time with his family.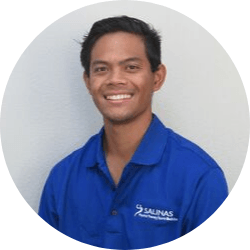 Jeremiah Casino, PT, DPT 
Doctor of Physical Therapy, USC 2019
Bachelor of Science, Cellular and Developmental Biology, CSUF 2014
Jeremiah graduated in 2019 with his Doctor of Physical Therapy degree from the University of Southern California. He completed 52 weeks of clinical internship in a variety of physical therapy settings, including orthopedic/sports, neurology, and inpatient rehabilitation.
Jeremiah grew up locally here in Placentia, having attended Cal State Fullerton earning a Bachelor of Science degree in Cellular and Development Biology. He grew up playing basketball. Currently, he has taken up an interest in practicing Brazilian Jiu-Jitsu, and Muay Thai.
During his free time, Jeremiah loves to remain active, playing basketball, practicing martial arts, snowboarding, biking, and surfing. He also enjoys playing the guitar and drums.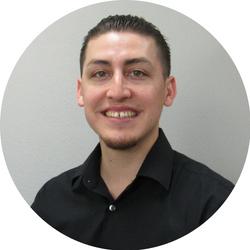 Ruben Salinas Jr, Office Manager
Pursuing Bachelor of Arts: Business, CSUF
As you can tell by the name, Ruben is Dr. Salinas's oldest son. He has been helping with the family business for over 5 years. He is currently pursuing his business degree from California State University, Fullerton. Ruben Jr. grew up playing competitive basketball and loves officiating high school basketball in his free time.  His hobbies include exercising, trips to the beach, and watching sports such as basketball, baseball, and boxing.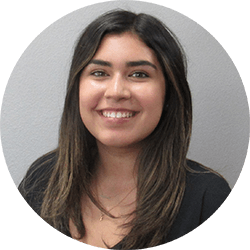 Lauren Escalante, Physical Therapy Aide
Bachelor of Science: Biology, Grand Canyon University 2018
Emphasis in Pre- Physical Therapy
Lauren was born and raised in Yorba Linda, California. She received her B.S. in Biology with an emphasis in Pre- Physical Therapy from Grand Canyon University in 2018. She is currently in the process of applying to graduate schools to hopefully become a Doctor of Physical Therapy. Lauren enjoys playing volleyball, spending time with her family and friends, going to country concerts, and of course helping others out in their rehabilitation process.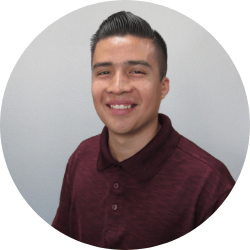 Nathan Vega, Physical Therapy Aide
Bachelor of Science: Kinesiology, Concordia University
Nathan was raised in Anaheim, California where he grew up playing soccer, basketball, and football. After a year of playing basketball and football at Canyon High School, he made the decision of focusing on soccer which let him to receive a scholarship at Concordia University, Irvine, where he played on the Division II Soccer team for three years and graduated with his Bachelor of Science in Kinesiology. He loves playing soccer, exploring the outdoors, watching movies, experiencing different kinds of food, and spending time with his family.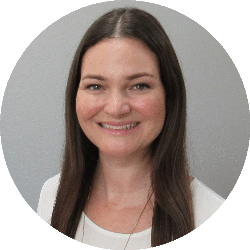 Suzana Camacho, Administrative Assistant
Physical Therapy Degree: Brasilia, Brazil
Suzana was born and raised in Brasilia, Brazil, where she received her degree in Physical Therapy. Working at Salinas has given her the opportunity to develop and apply her strong interpersonal and organizational skills.   She enjoys being outdoors, playing volleyball, cooking and traveling. Suzana loves going to Brazil with her husband and daughter and spending time with her family.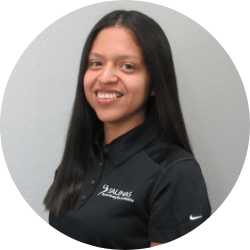 April Morales, Patient Care Coordinator
Bachelor of Science: Public Health, CSULA 2017
April was born and raised in La Puente. She received her Bachelor of Science in Public Health from Cal State LA, but is interested in pursing her degree in either accounting or engineering. April enjoys spending time with her family, friends, and dogs.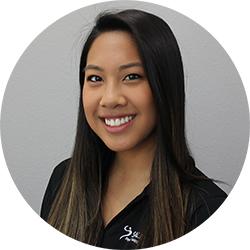 Erica Liwanag, Patient Care Coordinator
Pursuing Bachelor of Science: Nursing, Fullerton Junior College
Erica was born and raised in Orange County. She is currently attending Fullerton Junior College and is in the process of pursuing her Bachelor of Science in Nursing. She is an aspiring Nurse who wants to specialize in infant care. During her free time, Erica enjoys watching movies, spending time with family, and learning new things.
 Office Hours
Monday-Friday: 7:30am -7:00pm
Saturday: Closed
Sunday: Closed Phone: (714) 695-1566 Email: info@salinaspt.com


 Fax: (714) 695-1553
Subscribe to our newsletter